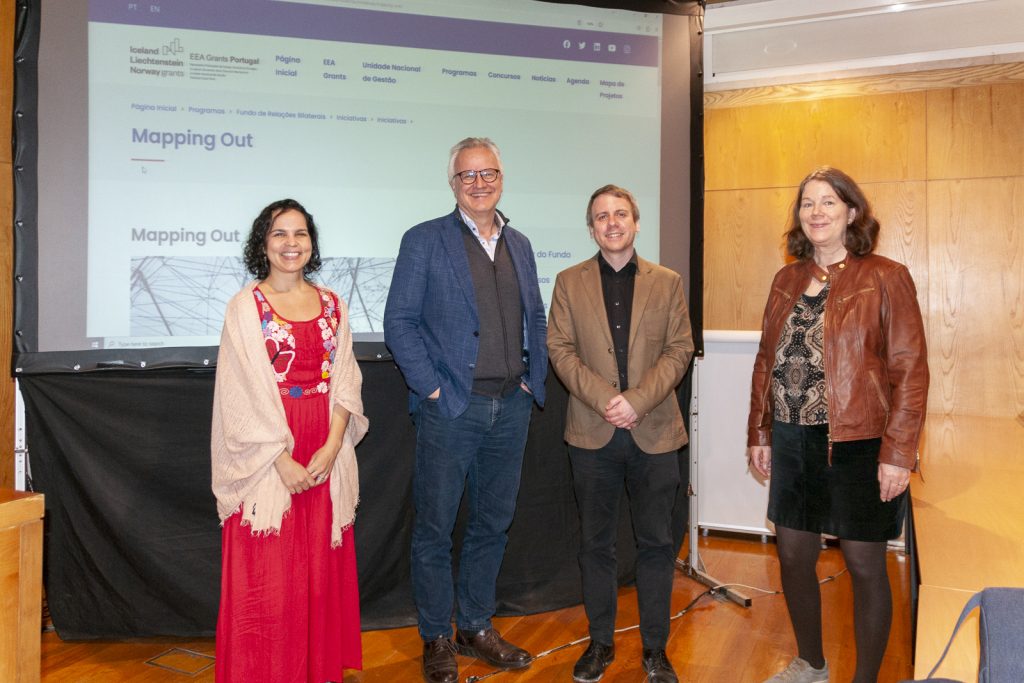 Thais França, Kristian Berg Harpviken, Manès Weisskircher, Katrine Fangen (from left to right)
Venue: Iscte-IUL, Lisbon
From the 20th to the 24th of February the Thais França hosted the Mapping out team from Norway at Iscte-IUL, in Lisbon, for an intense and productive working week. The group worked on the project's foreseen publication, its podcast, and future activities.  Together with the project's internal working meeting, two public events took place during their stay. On the 22nd of February, the session "Research Communication with an Impact: Different tools for different audiences" was held by Dr. Kristian Berg Harpviken (Prio, Norway) targeting PhD students and the research community in general. Harpviken is a sociologist and a Research Professor at the Peace Research Institute Oslo (PRIO). He was the institute director from 2009 to 2017 and currently leads the PRIO Middle East Centre. Harpviken talked about why research communication is important, what different levels of impact research can have, and how proper research communication can maximize a research impact. On the 24th of February, Dr. Manès Weisskircher presented the session "The Far-Right Challenge on the Streets? On the New Interplay between Far-Right Social Movements and 'Populist' Radical Right Parties in Europe".  Weisskircher leads a research group on far-right politics versus climate action at the Institute of Political Science, TU Dresden. Moreover, he is affiliated with the Center for Research on Extremism (C-REX), University of Oslo, and the Center for Civil Society Research, Berlin Social Science Center (WZB). Weisskircher analysed the contemporary far-right activism in Europe, sharing some key insights on far-right social movement activism. 
Stay tuned for our next activities:
In the summer a podcast episode with Dr. Kristian Berg Harpviken will be online. In the episode, Harpviken talks about the inspiration to study anti-immigration mobilisations  and the role of  these mobilisations hin shaping migration agenda, policies and discourses in Europe.
In July, 3-6, at the 20th IMISCOE annual conference in Warsaw,  Thais França will present the paper Anti-immigration grassroots in Portugal: the drivers of activism and its success, co-authored with João Carvalho (Cies-ISCTE) in the pannel "Reaching Out to Close the Border: Understanding Mobilization against Migration across Europe" organized by Dr. Harpviken